"Captain, There be whales here"! Maybe it's the nerd in me but every time I see reference to a hump-back whale I think of Mr. Scott declaring that two whales were beamed aboard the Enterprise in Star Trek IV: The Voyage Home. The plot where Mr. Spock and the rest of the team race back in time to capture some whales to keep an alien probe from destroying earth. If that doesn't make you think that these amazing creatures are important, then just go on a Whale Watching Excursion with Juneau Alaska outfitters "Gastineau Guiding". After an awesome rainforest hike with biologist/naturalist "Van" who had some serious Alaska wilderness Kung Fu, we boarded a custom build whale watching boat with our guide Lindsey and Captain Scott (Ironic, I know) who got us in the thick of things with Whales, Sea Lions, Bald Eagles, and more Whales. Here are the images I captured on the excursion. Don't forget to click on the images to see them full size on your monitor!
The hike began in the wilderness where we go up close and personal with Alaska's rainforest.
We saw some awesome Flora/Fauna and learned all about its uses by the First Nations people of Alaska from Van:
The beach-combing with Van and Lindsey allowed us to enjoy the Juneau shore:
Then after a short bus ride to a loading ramp we boarded the boat to find some whales. Lindsey was amazingly knowledgeable about anything living in the waters around Juneau and made the ride interesting while Scott did some whale recon on the radio to the other boats to find some whale action.
We found these lazy sea-lions on the way out, where we learned the difference between sea-lions and seals. The eagle was a nice touch hired by Gastineau Guiding to make the scene more "Majestic" :).
Then we got to see what we came for, humpback whales galore! At one point when I was looking through the D3s at about 320mm I saw at least 4 blows from whales. It was awesome!
There was one little calf who I think Lindsey referred to as "Smudge" because of the smear on the underside of his flukes that spent as much time out of the water breaching as he did under water. An amazing show!
It was an amazing adventure made even better by Lindsey, Van, and Scott of Gastineau Guiding and thanks to Disney Cruise Lines.
Until the next image theft,
Enjoy!
Photogs Note:
Shooting whales is a lot like shooting action sports. The trick is to keep your lens zoomed close to maximize your field of view and keep both eyes open to expand it even more. When you see some action, be ready to zoom all the way in so you can capture the barnacles on their fins! I keep track of my shutter speed while in aperture priority (A mode on Nikon) because I want to keep my depth of field as shallow as possible. It's probably not a big deal on a cloudy day like this one but on a sunny day you could end up with a camera at f/8 or greater if you let the camera adjust aperture. Not a huge deal when on the open ocean but this photog isn't as religious about keeping my sensor clean so at f/8 I end up cleaning a lot of dust spots off the photo which sucks. However, you could easily put it in shutter priority (S mode on Nikon). Either way keep your shutter speed above 1/500th of a second because you don't want any breaching whales to be blurry. I also make sure that I put the lens in VR mode if you have it and set it for "Active" since you're on a pitching boat.
All that being said, don't ruin the moment by spending the whole time looking through the viewfinder. What I missed out on while getting these shots is seeing Julie and the boys enjoying the moment. Something that really is more important than capturing images. I screwed up but you don't have to. We photographers sometimes forget that we need to spend some time watching the people you love enjoy the experience that you have provided too. It's not all about getting the shot, you have to live and love a little too....
Obviously when you spend an entire week on an island in the Pacific that is constantly renewing itself via fire and earth, your going to get to see some evidence of volcanic activity. Although we didn't get a chance to see any real lava flows, we did see examples everywhere and although the world was in color, for some reason my photogs eye only perceived it in black and white....
What I found even more amazing is how the lava flows into the ocean. For some reason you get in your head the vision that the lava just slips in and forms a kind of charred beach. You couldnt be more wrong. It builds a gigantic cliff that gets relentlessly hammered by the ocean and creates what can only be described as the analog of the White Cliffs of Dover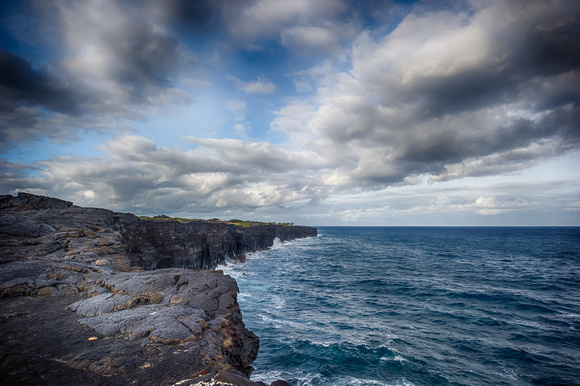 If you dare to lean over the edge, there are dozens of arches cut into the cliff face. The ocean cuts sea caves into the wall of Lava and then crumbles away, leaving arches like the following...
Make sure you click on the images to experience them full size on your monitor.
Another amazing day on the Fire Rock of the Pacific.
Until the next image theft...
Aloha!
I know its been several months since a post but unfortunately the photography has taken a back seat to at least a dozen other Family and Career obligations. However, I often do get a chance to combine a few of these "obligations" and the results can be pretty cool. Sunday night JD had a soccer game that ran into the evening. It was the perfect storm for creativity (No Pun Intended). Rain, Lights, Mist, Blue Hour, Soccer, Tree's, and a little god sky for good measure. Goaaaaaaallllll!
To insure crisp sports images, I had to ditch the Nikkor TC-17E2 1.7X adapter and was living at f/2.8 and almost 16000 ISO most of the time to get the shutter above 1/400th of a second through the Nikkor 70-200mm. A lesser camera than the D3S would have gone back to the car before the game began but the ISO capability on this beast is simply amazing. Once things got really dark and high quality action shots was almost impossible due to the low light, I resorted to a little long exposure 5 image HDR, hand held against a fence. Here is the result:
Be sure to click on the image to see it full scale in your monitor. I think you will agree that the noise reduction of an HDR at ISO 1600 is nothing short of remarkable.
Until the next image theft (Hopefully soon),
I just finished building a new Niner Jet 9 RDO mountain bike and as soon as the weather breaks if you are looking for me, I can be found descending down a nasty trail with my hair on fire.  This bike is purpose built for going fast and defying gravity! Every component was hand selected and installed by yours truly!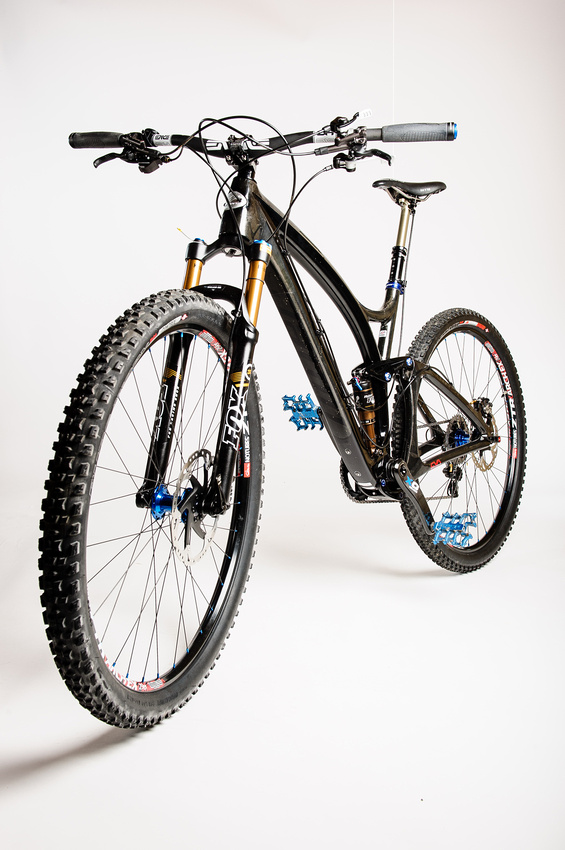 You can see all the images I took here:
Until the next image theft!  Enjoy!
I shot lovely little Claire's 1st Communion images.  Whe was a wonderful subject and VERY patient.  We shot a bunch of photos that you can see HERE:
The following were my favorite images from the Shoot.  Enjoy!
Portraits are easy when you have a good subject!
Oh to be young, in love, no kids, and engaged again!  This past weekend we all had a blast shooting some fun engagement photos in "Old Town St. Charles".  The weather was fantastic and we couldn't have asked for a more beautiful day for a combination of photography and smooching.  Actually a few awesome clouds would have been nice to enhance the images with an amazing "God Sky" but I'm not complaining because its February in St. Louis ang 60+ degrees! 
Our choices were a little limited because everyone else in St. Louis decided to come out and join us including an entourage of about 50 other photographers doing some kind of photo-walk / photo-class.  However, we managed to Steal a few images regardless.  Here are my personal favorites from the shoot:
Megan's sister was there as part time chaperone to keep things from getting too steamy and help out as full time photo assistant.  She did an awesome job considering how much she was being paid.  Here is an image of the team at work.  This is her response to my request, "Give me your Super Hot and Sassy Photo Assistant Pose"....
We finally broke free from the bonds of St. Charles and made a trek to Busch Stadium for my favorite image of the day.  We finished up with a really cool and sentimental shot of the couple and Megan's grandfathers "Cardinals Fan Brick" and a few other shots at the stadium.
If you would like to see some of the other images we stole that day feel free to visit HERE.  Remember, to see any of the above images "Full Size" on your monitor just click on one!
Until the next image theft, enjoy!
The axiom of being a photographer is that there is this personal expectation to one-up yourself each Christmas with a more cute and creative image for the annual Christmas Card.  Added to that is the expectation from everyone else that the image contains a picture of the Grant boyz.  Here is this years attempt at both! 
Merry Christmas and Enjoy!
Warning: Chemical Engineering / Environmental Satire:
I know that many of you tree-hugger types may find this image offensive and it is still true that bio-fuels and "renew-ables" are still all the rage in Washington when it comes to energy source selection but I decided to go old school with this years Christmas photo and get back to the energy solution basics with good old fashioned COAL.  The kind that Naughty kids from all over the globe have been getting for centuries.  Giving the boyz a mason jar of Trans-Esterified Soy Bean Oil (Biodiesel) just didn't seem to fit the tradition of the season.
Please be warned if you decide to give your naughty kids COAL for Christmas with the expectation that you will save a few dollars on the Holiday budget you may be in for a surprise.  When the democratic run EPA found out that I was doing this shoot in a Non-Attainment area and a metropolitan city, I was notified by certified letter that I had to submit an Air Permit application to the Missouri Department of Natural Resources stating that I would not exceed the maximum concentration of CO2, NOx, SOx, Particulates, Ozone, Organics, Lead, and other heavy metals emissions as defined by the NAAQS.  The consulting fee's alone required to read and understand the local regulations and the expertise and software required to calculate the emissions plume exceeded my intended holiday budget by almost $200,000.  Plus, I was going to have to get an indentures waver from my sub-division for the 150' tall addition to my chimney because of the low stack temperatures required to meet said low NOx and energy consumption guidelines.  This massive stack is necessary to insure that my emissions would not endanger any tax paying Missouri voters and guarantee that they end up in Illinois where they are far too broke from enthusiastically preparing a jail cell for their past Governor  to afford the bureaucracy necessary to deal with such environmental shenanigans. 
Thus, I just settled for the above quick image of the Grant Boyz and had a HazMat team whisk the offending materials off to the closest membrane lined hazardous materials landfill.  Even though the materials were mined from the ground in the first place........
A friend of mine from work asked me to do some photograph restoration work on an old photograph of his wife when she was just an infant.  Naturally I jumped at the chance.  There is something exciting about restoring a treasured and one of a kind image from someones past.  Not only are you fixing an image, you are recovering memories for future generations to cherish so I try to take it very seriously.  Its probably the closest that a broken down engineer like myself with absolutely no real artistic talent can come to restoring a painting.  For an hour or so, you can pretend that you are restoring a lost Michelangelo someone dug out of the cellar of an old Italian villa....
Here is the original Image:
The Restoration:
Restorers Note:
Restoring an image like this in photoshop is relatively easy.  I pretty much use the same workflow here as when handling an image that I have captured while out shooting.
Crop and resize.  This image was a HUGE scan that I cropped to 8x12 and 250ppi.  Old images that are restored this much are rarely printed over 5x7.  If its clean enough for a 20x30 it probably doesn't need restored!
Remove noise as best you can.  I use Imagenomic's Noisware professional but the Dust and Scratches or Noise removal of Photoshop CS5 works well too.
Use the Clone Stamp, Patch, Healing brush, and content aware tools to remove all the defects from the image.  Rebuild what you can.  Use existing skin tones as much as possible. 
Use Curves to bring out contrast and alter color.  In this case I let Photoshop CS5 do its thing on the first pass to transform the image from a Sepia to a more colored image.  I'd say it did well.
Sharpen with care.  You can't get crazy with an image this graining with sharpening even though the original was pretty soft.  Even if its a little blurry, its better than oversharpened.
Export as a JPG at 25oppi and sRGB color profile so they can print about anywhere etc.
The one thing that is difficult to fix is a soft photo.  This particular image was a little out of focus in the eyes.  I rolled with it on this image and actually used a little soft focus effect on the entire frame to make it look more natural.
The entire process took about one hour to complete.
Until the next restoration, enjoy!
We had some friends over this weekend for a little grilling and conversation.  It was one of those weekends that is so hot that a kid could virtually burst into flames without a little water to cool down so I turned the sprinkler system on for an hour or so.  I managed to steal a few images of the kids playing and here are my two favorites from the day.
Both images are right out of camera with a little sharpening and color correction in Lightroom and Photoshop CS5.
Until the next theft, enjoy!
I've been so busy this fall that I haven't really had a chance to get out and shoot any fall color images.  Not to mention that the colors are not as vibrant as I would like (Not that photoshop can't help with that!).  However, yesterday I got a chance to visit a friend's wonderful family farm in Augusta and stole a few images.  Unfortunately I got there a little late and the light was failing fast so I didn't get as many shots as I wanted.  Here is my favorite image of the day:
I also snagged this cool B&W HDR of the inside of the Barn.  If those cars weren't parked in the scene on the left side of the frame you would think this was captured in the early 20th century!  The light coming in through the slats in the barn was very cool.  Next time I'll have someone throw some dust up in the air and try and get some rays of light in the image! 
If you make the jump by clicking on any of the above images you can see a few of the other HDR images that I captured.  I'm definately going to have to stop back by when I have a little more time and the sky is perfect.
Leroy certainly has a beautiful slice of heaven right here in St. Louis.
Enjoy!
Sorry, no photography tonight, just news!
I received notice from the United States Patent and Trademark Office via mail today that my application for an individual trademark has been approved!  So its completely legal.  "Steal Nothing but Photographs" is officially my registered mark of creativity!
I was pretty excited to finaly get it after I filed for it about 10 Months ago.  It was a pretty painless process that I highly recommend to anyone that is trying to protect their brand.
I've been wanting to do an HDR photography collection of Forest Park ever since I saw  Edward Crim's Forest Park 365 project.  Edward basically shot EVERYDAY in the park and posted his images here.  Although I don't have the time to do such an ambitious artistic enterprise, I will be doing a collection of the most well known architectural structures from the park.  Yesterday the stars aligned.  I was commuting from Downtown to Clayton for meetings and the sky was finally cooperative to allow some great HDR images.  Here is the first of MANY Forest Park images.  I chose the "Jewel Box" as the first of the series since I had never visited the structure before.  What an amazing example of 1930's architecture!  The total shoot was a little impromptu since I didn't have my tripod but how could I pass on that wonderful cloudy "God Sky".  I was pretty happy with the result since each image is comprised of 5 images from -2 to +2 EV and was shot handheld with the D3S.
All the images were processed with Photomatix Pro, General Curves, Sharpening, and Light Pole removal with Photoshop CS5, and noise reduction for the HDR sky with Imagenomic's Noiseware!
Tomorrow I'll post the images from the Muny.
Enjoy!
The other day when I captured the (9th and Victor) image while I was running around Soulard looking for targets of opportunity I also managed to steal this image of a spooky old house on 12th Street a few blocks down from McGurks Irish Pub on Russell.  When I saw the house I quickly pulled over, finished my Taco Bell Burrito, and captured this image of the St. Louis version of the Munsters house.  I was humming the theme from the Adams family for another 15 minutes after I saw it.  The house is currently being renovated and the owners certainly have their work cut out for them.  There isn't a straight wall anywhere on this house.  It even sits on a hill with a sloping street.
This is an HDR image from 5 handheld images that was converted with Photomatix Pro and Converted to B&W with NIK Silver Efex Pro.  Curves and Sharpening was done in Photoshop CS4.
Enjoy!
It seems that Wyatt was the featured subject this weekend with 2 posts of his cute little features and both in B&W to boot!  This image was taken through the Nikkor 50mm f/1.4 D lense with the new D3S at ISO 1000, f/2.2, and 1/125 shutter speed and NO flash.  I took the image handheld while he was motoring around my Aunt's house, walking and talking.  Only the ambient light from a few lamps was needed.  The B&W conversion was of course done with NIK Silver Effects.
If you are curious about the Silver Effects Settings, shoot me an email!